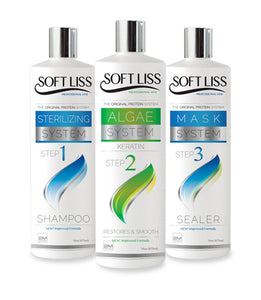 SoftLiss Brazilian Keratin Marine Algae Premium Kit
The Natural Healing Power of Algae + Strengthening Brazilian Keratin = Unstoppably Sexy Hair
SoftLiss Brazilian Keratin Marina Algae Premium Kit:
Live Without Frizz—Keratin and Algae Together Will END Bad Hair Days for Good!
Say goodbye to bad hair days for good with our insanely popular SoftLiss Brazilian Keratin Treatment with Marine Algae!
This is our most POWERFUL kit yet that takes all of the amazing healing proteins and minerals of algae and combines it with the straightening, strengthening power of Brazilian Keratin for UNSTOPPABLY straight and vibrant hair!

We're obsessed with creating a product that features the perfect blend of nutrients, vitamins and minerals that your hair needs. After years of work, we've totally nailed it: a three-step product lineup that we're 110% CERTAIN you're going to love!

Marine Algae Sterilizing Shampoo: Hit the shower and rid your hair of all the yuck it collected during the day! Slowly work the rich, natural sea salts found in algae into the roots and capillary fibers of your hair. Additional softening agents such as protective vitamins and proteins are also released into your scalp at this time, leaving your hair youthful, vibrant, and gorgeous!

Marine Algae Intelligent Brush System: Time for a little replenishing action! Our Marine Algae corrector combines powerful vitamins, proteins and of course, keratin, into a powerful elixir that, when massaged into the scalp, helps rebuild hair fibers and fill in gaps that are left from damaged hair. Even if your hair is naturally frizzy, you'll walk out of the shower with silky smooth straight hair every time!

Marine Algae Mask Sealer: With the power of hydrolyzed keratin, natural oils and herbal extracts, our mask sealer helps capture ALL of the nutrients in our shampoo and conditioner and KEEP them in your hair fibers for days and days! No more leaving the house with great hair and coming back home with tired, flat hair. With SoftLiss Mask Sealer, you'll look your best ALL day long!



Get Naturally Straight and Gorgeous Hair WITHOUT the Added Chemicals!
Get our SoftLiss Marine Algae Premium Kit with SALON-QUALITY Keratin Treatment TODAY. It's backed by our 110% GUARANTEE! 
Yes! I Want to Order My Marine Algae Premium Kit Right Now!